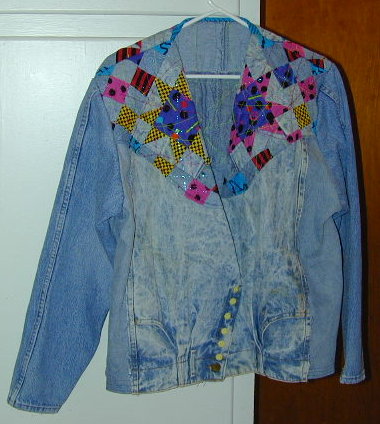 Denim Jacket
I am very, very happy with this jacket. I used the Upside Down Jacket pattern by The Junk Jeans People, but the pattern is for a jacket with 2 different options for embellishment and a vest. This jacket is so great for me because it fits me very well, and that doesn't mean that this is a great jacket for everyone. In addition, I used jeans with pleats in the front (see image to right) on the assumption that they would act like darts, giving me ample room for my bust while fitting my waist. The jacket is, also, the correct length for me. I hadn't appreciated how important fit is. I think the crazy quilt vest is more attractive on the hanger than this jacket, but this jacket is definitely more attractive on me.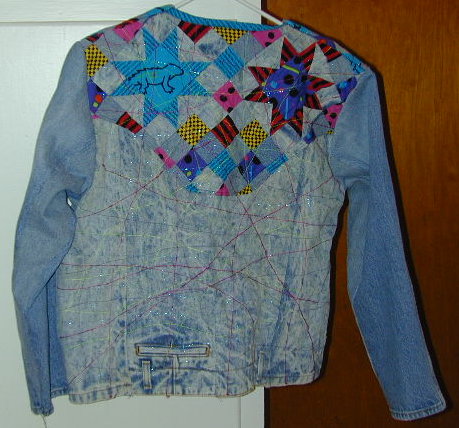 I mostly followed the directions for making the jacket. The front and back had to be pieced. I didn't quite have enough fabric from 1 pair of size 14 women's jeans to go all the way around. I decided to make the back all from that pair of jeans and use a second pair in the front. The sleeves are made from a third pair of jeans.
While making this jacket I learned the value of using the correct needle for your machine. I started with a Singer denim needle, but after sewing only a few seams I had a terrible time with thread breakage. I switched to Schmetz and was able to complete the jacket with that needle. I talked to my dealer about the needles and learned that for my machine, a Bernina, the Singer needle is too long.
The yokes are pieced from junk jeans denim, a heavy cotton woven (the lizards and turquoise strip), and "quilting" cottons. The lizard and strip are the same reversible fabric. I'd purchased this fabric many years ago from the seconds bin at Sweet Potatoes factory store in Berkeley, California. Piecing the denim and cotton was difficult because of the great difference in the weights of the fabric.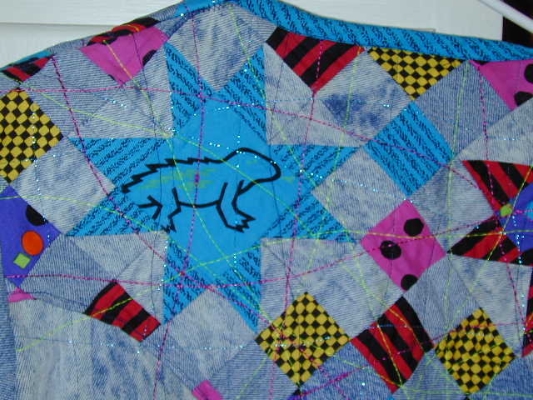 For the surface embellishment, I used a modified Wendy Hill method. I'd seen her on the Carol Duvall Show, but I do not have her book On the Surface. Instead of using 20 different threads, I used 4 (neon yellow, hot pink, mettalic turquoise, and navy). The neon yellow and navy threads are regular sewing threads. The hot pink is a ribbon floss, and I used that in the needle with considerable breakage. If I use ribbon floss again, I will either couch it or use it in the bobbin. I could not use the metallic thread in the needle, not even with a metafil needle designed for sewing metallic thread. However, it worked fine in the bobbin.
---
---

Fight for your right to web standards!

| | |
| --- | --- |
| | 34866 hits since July 30, 2002 |