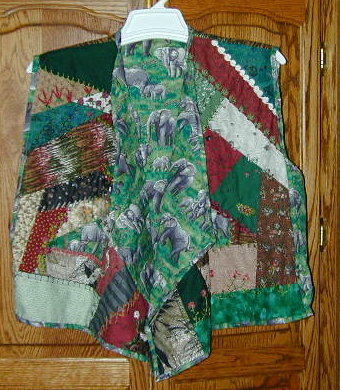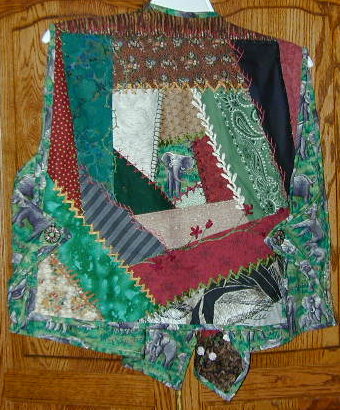 Crazy Quilt Vest
This vest is from Deborah Brunner's book Crazy Rags. I chose the "tuxedo vest" pattern. The patterns in Crazy Rags consist of rectangular pattern pieces. This makes them very easy to cut out. The tuxedo pattern is made from 3 rectangles with the upper corners cut out to create the angle at the shoulder. Two of those corners are used to create the sides of the vest.

I chose the tuxedo pattern because I liked the look of the drapey lapels on Deborah in her book and because it looked like the simplest of the patterns to make. I didn't take into account the difference in our figures. Deborah is slender with small breasts. My bust is 40DD, and I am volumptuous. The vest has too much bulk in front for me, and so when I wear it, I tend to make the fronts overlap instead of draping like they do in the picture.

The surface design started with the elephant fabric that lines the vest. I love elephants, and my husband gave me this fabric several years ago. The elephant fabric is the starting piece for the crazy patchwork. I followed Deborah's directions interms of placement and starting shape. If I were to do this again, I would move the elephants towards the sides of the front pieces and up a little. They barely show behind the front labels.

I chose the rest of the fabrics using Jinny Beyer's color method and the portable palette. All of the embroidery is by hand, and I used only embroidery patterns featured in Crazy Rags.

I did not enjoy the handwork, so I won't be doing that again. And because I'm not pleased with the bulk in front for this particular pattern, I won't be making another tuxedo vest. But I think the vest looks great on the hanger. It was easy to construct.

Update: June 29, 2003: I've had several years of sewing experience since I made this vest, and I have to recommend that women not use the patterns in Deborah Brunner's book unless you have a straight figure with a small bust. If you are curvy or have large breasts, you will do much better with a commercial vest pattern. While the simple patterns in Crazy Rags are easy to sew, they do not offer much in the way of fitting, and so they will not flatter you unless you are very straight and rather flat. And I think you will end up with a vest like mine that looks great on the hanger but is unflattering on.
---
---

Fight for your right to web standards!

| | |
| --- | --- |
| | 25385 hits since July 30, 2002 |